Recycling Policy

Our livestock feed recycling (Eco-Feed) project demonstrates
how Oshima Industry values the pursuit of transforming waste into a useful resource.

Oshima Industry began collaborating with Kyushu Food Factory Recycle B.C.A.
when the Food Recycling Law took effect in 2000. Becoming the industry's pioneer in establishing a food recycle system, Oshima Industry transforms wasted food into livestock feed
by harnessing waste heat to desiccate the collected food waste.

In the pursuit of finding new ways to recycle, Oshima Industry is Kyushu's top-of-the-line processing plant that recycles thermal energy emanating from the incinerator and recycles products,
raw materials, and rare metals.
Collaborating with Oshima Industry's Neighbor,

Kyushu Food Factory Recycle B.C.A.

The systematic production process of transforming food waste into livestock feed (Eco-Feed) is made possible through collaborating with our neighbor Kyushu Food Recycle B.C.A.

-Kyushu Food Factory Recycle B.C.A.
■Founded: April 2002 (Certified by the Ministry of the Environment and the Ministry of Agriculture, Forestry and Fisheries) ■Treatment Capacity: 20t per day ■Production Capacity: 7t ■Equipment: Vacuum Dryer Plant & Flash Dryer Plant
From Processing Waste to Producing Livestock Feed

Systematic Livestock Feed Production from Food Waste

Oshima Industry is able to produce low cost livestock feed by harnessing thermal energy emitted during the disposal process to desiccate the food waste. We create safe, high-quality livestock feed by stringently managing the food temperature from the point of collection and utilizing two desiccation processes that consider the nutritional content of the food.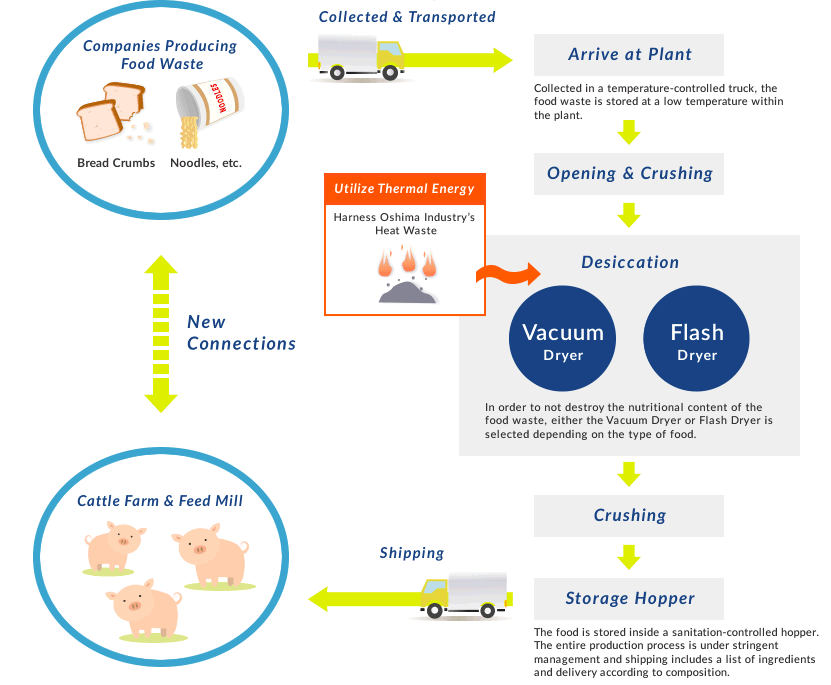 Reducing Waste and Giving Back to Clients Through

Oshima Industry's Waste Heat Recovery

Kyushu Food Factory Recycle B.C.A. utilizes waste heat emanating from the neighboring incinerator during the desiccation process. Doing so drastically reduces the fuel required to process food waste into livestock feed and reduces costs.

By inputting and transforming incineration emissions into 125〜145 degree steam, Oshima Industry harnesses heat waste to generate electricity to be used at the plant and in the desiccation process of organic waste.